Salisbury the Magazine is all about life in and around Rowan County and the Piedmont. Readers will get the true flavor of the area through features about people, places, food, homes, history, recreation and more — something for every season. The magazine is filled with content and photos by award-winning photographers/writers.
The SALISBURY the magazine is a multiple award winning publication. (N.C. Press Association)
Frequency: 9 times annually
Circulation: SALISBURY the magazine prints a minimum of 7,000 issues and is available for pickup in boutiques, hotels, real estate offices and retail outlets throughout the Salisbury and surrounding region. Readers may also purchase a yearly subscription to the magazine. To be a distributor, please call 704-797-4213.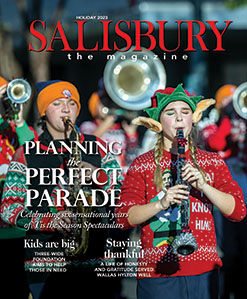 Would you like to advertise in Salisbury the magazine?
Contact sales@salisburythemagazine.com or 704-797-4286 for deadlines and specifications
Salisbury the Magazine
P.O. Box 4639, Salisbury, North Carolina 28145
704-633-8950 | FAX 704-633-7373
sales@salisburythemagazine.com
We welcome your feedback and story ideas!
Contact the editor at maggie.blackwell@salisburypost.com
Want to subscribe?
Please visit the subscription page for more information
Looking for an issue?
Check out the issues page for more information